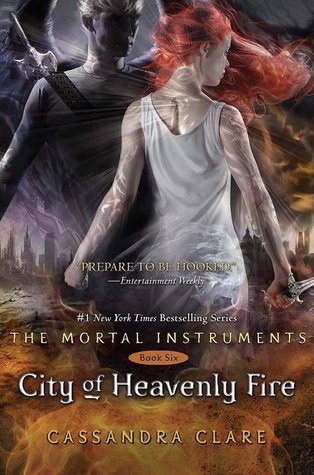 ΕRCHOMAI, SEBASTIAN HAD SAID.


I am coming.


Darkness returns to the Shadowhunter world. As their society falls apart around them, Clary, Jace, Simon and their friends must band together to fight the greatest evil the Nephilim have ever faced: Clary's own brother. Nothing in the world can defeat him — must they journey to another world to find the chance?
My Rating: 5/5
This book was one of my most eagerly anticipated books of 2014.
In the lead up to its release, I decided to re-read the entire series. I definitely fell more in love with the shadowhunter world.
City of Glass is still my favourite book of this series, but City of Heavenly Fire runs a close second.
I loved the introduction of Emma as she reminded me of a mixture of Clary and Jace. I am definitely looking forward to reading more about her in The Dark Artifices series.
This book was a lot longer than the others because it deals with a lot more plot twists, action and characters.
I had numerous ideas on how this series would end, and whilst I wasn't completely accurate I was on the right track.
Possible Spoiler: Out of all the plot twists and endings, the Simon one surprised me the most.
This was the first time (probably because I re-read the entire series in under a week) that I felt a connection to both Izzy and Alec.
There was a significant more romance in this book compared to the others which will please a lot of people.
I have yet to read The Infernal Devices series so a lot of references to the characters from that series and their ancestors went a little over my head.