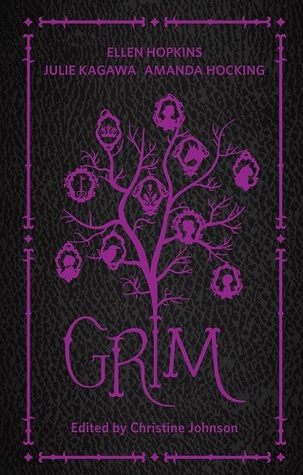 This is a book full of short stories including a lot by some of the most popular young adult authors of today. Surprisingly though I had not yet read any books by the majority of these authors.
Because there are a total of 17 short stories told over the course of 454 pages, each of the stories are unsurprisingly shorter than other short story compilations that I have previously read.
Also, these short stories are retellings of the original Grim fairy tales, and I often wasn't familiar with the original story. I will review the short stories separately.
1. Key by Rachel Hawkins
This story contained an amazing amount of depth for its short length.
2. Figment by Jeri Smith-Ready
This story had an interesting plot in that it was told from an inanimate object's perspective.
3. The Twelfth Girl by Malinda Lo
This story was slightly dark and very mysterious.
4. The Raven Princess by Jon Skrovon
This story had the most genuine fairy tale feel to it in the entire book.
5. Thinner Than Water by Saundra Mitchell
This story was significantly darker and more disturbing than the others, yet I found it somewhat enchanting at the same time.
6. Before the Rose Bloomed by Ellen Hopkins
Ellen Hopkins is an author that I have heard plenty of positive things about but hadn't got around to reading any of her work yet. Her unique writing style puts me off. I found that the verse format helped with the enchanting feel to the story and this was one of my favourite stories in the book.
7. Beast/Beast by Tessa Grafton
This was another one of my favourites and it reminded me of Beastly by Alex Flinn as it is obviously a retelling of Beauty and the Beast.
8. The Brothers Piggett by Julie Kagawa
This was a retelling of the Three Little Pigs, one of the last stories I had expected in this book. This story had a very unique concept and Julie Kagawa's high standard of writing.
9. Untethered by Sonia Gensler
Even though this story lacked the fairy tale feel to it, I found it quite intriguing and loved the dark undertones.
10. Better by Shaun David Hutchinson
This had a significantly more sci-fi than fairytale approach to it which I loved because it really stood out from the others.
11. Light it Up by Kimberly Derting
I was really captivated by this story. I loved the genuine sibling relationship and the simplicity of the plot. The fact that this was one of the few stories that I was aware of the original story helped.
12. Sharper than a Serpant's Tongue by Christine Johnson
This story was extremely short and had a distinct fable feel to it.
13. The Real Boy by Claudia Gray
I loved the dystopian like setting of this story but I found it hard to get invested in the story.
14. Skin Trade by Myra McEntire
This was a retelling of Pinocchio with a cyborg twist. I found this story hard to follow and rather cryptic.
15. Beauty and the Chad by Sarah Rees Brennan
I was a little surprised to see another Beauty and the Beast retelling in the same anthology. This one was interesting but the lack of dialogue frustrated me.
16. The Pink by Amanda Hocking
I would consider Amanda Hocking as one of my favourite authors and so this was the story I was most looking forward to reading. Because I wasn't even remotely familiar with the familiar story, I thought this story was rather unique and I really enjoyed the characters.
17. Sell Out by Jackson Pearce
I loved how far this story strayed from the original concept whilst at the same time kept the obvious link to the original story. I would have liked this to have either been longer or full length as I felt like it was just building when it ended.