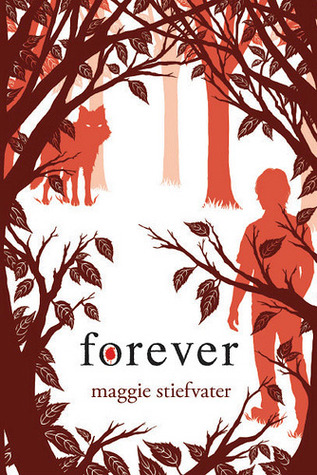 then.
When Sam met Grace, he was a wolf and she was a girl. Eventually he found a way to become a boy, and their loved moved from curious distance to the intense closeness of shared lives.

now.
That should have been the end of their story. But Grace was not meant to stay human. Now she is the wolf. And the wolves of Mercy Falls are about to be killed in one final, spectacular hunt.

forever.
Sam would do anything for Grace. But can one boy and one love really change a hostile, predatory world? The past, the present, and the future are about to collide in one pure moment - a moment of death or life, farewell or forever.
My Rating: 4/5
The way that Linger ended I can't believe I waited 9 months to finally read Forever. The story kicks off straight from Linger's ending.
I found the second portion of the book a lot more enjoyable than the first half - this was due to Grace and Sam's reunion halfway through the book. Both of their characters are stronger when in the others presence.
The plot in this book was rather basic - Isabel's fathers ongoing crusade to rid Mercy Falls of wolves goes to the next level leaving Grace, Sam, Cole and the pack at risk of extermination.
There were minor sub-plots like the police's fascination with Sam and Grace's parents but I wish there was more in this area.
Cole seems to grow and grow with each book and by the end of Sinner he will probably more than likely be my favourite character.