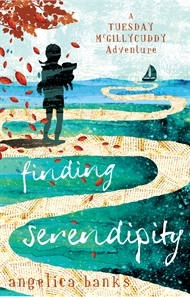 Tuesday McGillycuddy loves stories - and her mother is a writer. A very famous writer, who has locked herself away in her writing room to finish the final book in her best-selling series for children. But when Tuesday knocks on her door, she discovers her mother is missing!

In search of Serendipity, Tuesday and her faithful dog Baxterr soon find themselves on a very dangerous mission. They enter the magical world where stories come from, a mysterious and unpredictable world, full of real danger and heart-stopping adventure.

With the help of pint-sized heroine Vivienne Small, Tuesday will need all her wit, courage, perseverance and imagination in order to get to The End and be reunited with the people she loves.
My Rating: 3/5
This was an enchanting, adventurous read and I really would have loved this book had I read it as a child. I am really glad I judged this book based on the cover otherwise I wouldn't have picked it up.
This book was similar to Between the Lines but focused more on the adventure rather that the romance.
This book was written by two authors under one pen name which I never would have guessed as the writing is seamless and fluid.
This book was just what I needed after reading a few heavier books. It was a light, fun read and I would recommend it to anyone who loves writing as it show an interesting portrayal of the process of writing a book.