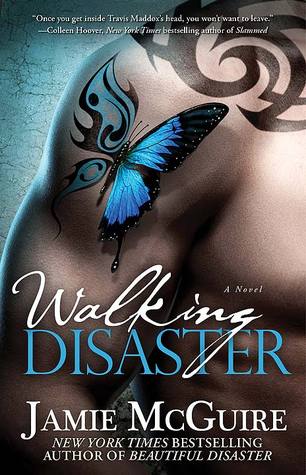 Finally, the highly anticipated follow-up to the New York Times bestseller Beautiful Disaster.
Can you love someone too much?
Travis Maddox learned two things from his mother before she died: Love hard. Fight harder.
In Walking Disaster, the life of Travis is full of fast women, underground gambling, and violence. But just when he thinks he is invincible, Abby Abernathy brings him to his knees.
Every story has two sides. In Beautiful Disaster, Abby had her say. Now it's time to see the story through Travis's eyes.
My Rating: 4/5
This book is the sequel to Beautiful Disaster which I read a few months ago and absolutely loved it.
The first book is told from Abby's perspective whereas this book is told from Travis'. Because this is more or less the same story, just with a different narrator I was surprised by how different that made the story.
There were a few holes in the story which could be filled in by having read Beautiful Disaster so I would recommend reading the books in order to save confusion.
I was really interested in reading this book from Travis' perspective because he is such a diverse and dynamic character whilst also being somewhat of an enigma.
The large majority of contemporary books are stand-alones with either split narration or single narration so I love how these books broke away from that and did something unique.
I was a little surprised by the epilogue because I know there are other book in this series (from Travis' brothers point-of-views) and so didn't expect the epilogue to be set so far into the future.