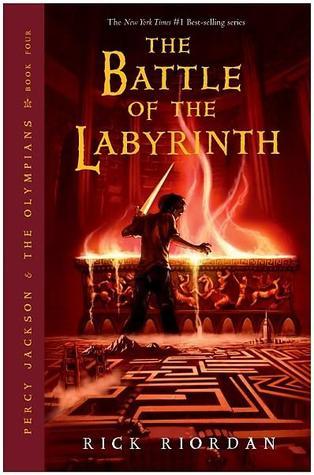 Percy Jackson isn't expecting freshman orientation to be any fun. But when a mysterious mortal acquaintance appears on campus, followed by demon cheerleaders, things quickly move from bad to worse.
In this fourth installment of the blockbuster series, time is running out as war between the Olympians and the evil Titan lord Kronos draws near. Even the safe haven of Camp Half-Blood grows more vulnerable by the minute as Kronos's army prepares to invade its once impenetrable borders. To stop the invasion, Percy and his demigod friends must set out on a quest through the Labyrinth - a sprawling underground world with stunning surprises at every turn.
My Rating: 5/5
This is my new favourite Percy Jackson novel. This series just gets better and better and I regret waiting so long to read them (especially when they have all been sitting on my bookshelf for years).
I loved the whole concept of the labyrinth and the monsters contained in it.
There was a lot more depth in this book compared to the others and this was largely due to the maturing of the characters.
I loved that Tyson played a larger role in this book than in The Titan's Curse as he is one of my favourite characters.
There was a lot of action in this book including a great battle scene.
I had planned on reading a contemporary book or something else before I started The Last Olympian but with the way this book ended quite ominously I couldn't help but delve straight into Percy Jackson's last adventure.