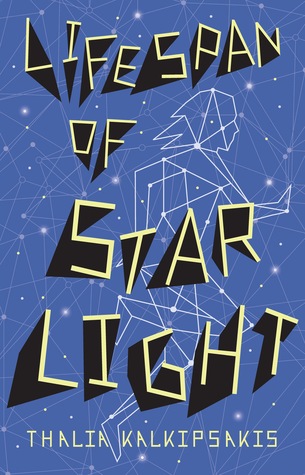 The first in a thrilling new trilogy of epic proportions from best-selling children's author Thalia Kalkipsakis. A fresh take on the time tripping genre,
The Lifespan of Starlight
is
Gattaca
meets
The Time Traveler's Wife.
It already lies dormant within you: the ability to move within time.
In 2084, three teenagers discover the secret to time travel. At first their jumps cover only a few seconds, but soon they master the technique and combat their fear of jumping into the unknown.
It's dangerous. It's illegal. And it's utterly worth it for the full-body bliss of each return.
As their ability to time jump grows into days and weeks, the group begins to push beyond their limits, with terrifying consequences. Could they travel as far as ten years, to escape the authorities? They are desperate enough to find out.
But before they jump they must be sure, because it only works in one direction.
Once you trip forwards, there's no coming back.
I received this book for review from Hardie Grant Egmont.
I think I have stated on here before that time travel is far from my favourite genre so I was beyond surprised by how much I enjoyed this book.
I found this book engaging, fast paced and I was really captivated by it.
I really enjoyed the world building and the setting especially as it is set in a dystopian Australia.
Scout (the protagonist) felt older than 14 which was not necessarily a negative thing but I wouldn't pass on this book because of her age - she seems much older.
The structure of the plot was pretty straight forward. It was definitely interesting but I felt there possibly could have been some more twists along the way.
The secondary characters especially Mason and Boc could have had a little more depth to them.
Whilst the concept of time travel is far from unique, this book did offer some interesting theories of the concept.
The ending whilst dramatic and surprising could have been even more so if not for the fact that the book's blurb somewhat spoils it. I did read an advanced readers edition so hopefully this can be fixed by the time it is published.