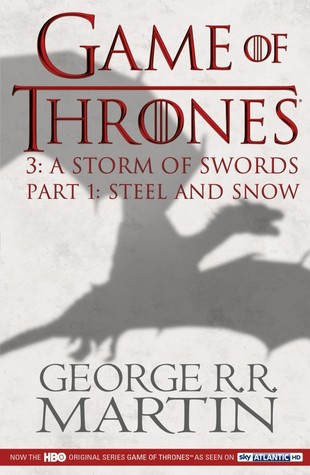 Winter approaches Westeros like an angry beast.
The Seven Kingdoms are divided by revolt and blood feud. Beyond the Wall, a horde of hungry, savage people steeped in the dark magic of the wilderness is poised to invade the Kingdom of the North. Throughout Westeros, the war for the Iron Throne rages more fiercely than ever, but if the Wall is breached, no king—or queen—will live to claim it.
My Rating: 4/5
This series just keeps on surprising me. It was not a series I expected to be able to keep up with let alone love (which I definitely do).
I love how many aspects this series has that are normally things that turn me off books such as the massive amounts of characters that are involved.
There were certain narrators that I found more interesting than others and so having to wait 100 or so pages at times to get back to favourite characters made the book seem slower paced than what it was.
What I loved most about this book was that it finally started hinting at merging storylines.
I loved the inner look at the wildlings which is the reason I wasn't too happy with how the book ended (spoiler - Jon Snow escaping them means there is no longer a narrator with them).
The amount of characters hasn't bothered me (yet). I still get some of the minor characters confused but that has no impact on the story.
Dany is by far the most under used character. I feel like we haven't had enough of her narration across the books I have read so far. I am hoping this changes as when her dragons grow her role in the war will only grow also.
I would have also liked to have had Robb Stark as a narrator. It would have been interesting to have his
perspective
on his role in the war rather than seeing it through his mother.
Jamie Lannister was the character that I felt developed the most in this book. Now that he has gotten away from Cersei he is also starting to become likable.