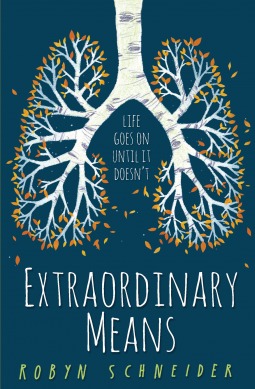 A bitter-sweet, coming-of-age novel that's perfect for fans of John Green and Stephen Chbosky.
When he's sent to Latham House, a boarding school for sick teens, Lane thinks his life may as well be over.
But when he meets Sadie and her friends - a group of eccentric troublemakers - he realises that maybe getting sick is just the beginning. That illness doesn't have to define you, and that falling in love is its own cure.
Extraordinary Means is a darkly funny story about true friendships, ill-fated love and the rare miracle of second chances.
There are so many young adult books around at the moment about sick teens but what makes this book different to those is that the teens in this book aren't given an definite death sentence which means they are all hopeful of recovery.
The book is told through split narration of the two protagonists Sadie and Lane. They are both completely different yet equally intriguing characters. They complimented each other really well.
Sadie seemed to accept her predicament and settled well into the environment at Latham House whereas Lane constantly mourned for his previous life.
The only negative thing I can say about this book is that the ending followed all the previous books I have read in this genre and in that sense it was rather predictable.
I really liked the setting of Latham House and apart from the constant coughing and the lack of dress code, it seemed like a normal school.