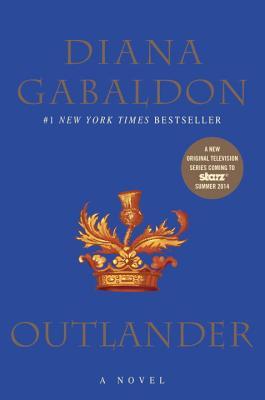 The year is 1945. Claire Randall, a former combat nurse, is just back from the war and reunited with her husband on a second honeymoon when she walks through a standing stone in one of the ancient circles that dot the British Isles. Suddenly she is a Sassenach—an "outlander"—in a Scotland torn by war and raiding border clans in the year of Our Lord . . . 1743.
Hurled back in time by forces she cannot understand, Claire is catapulted into the intrigues of lairds and spies that may threaten her life, and shatter her heart. For here James Fraser, a gallant young Scots warrior, shows her a love so absolute that Claire becomes a woman torn between fidelity and desire—and between two vastly different men in two irreconcilable lives.
I was curious how I was going to see this book as on one hand I'm not the biggest fan of time travel book or romance books but on the other hand I love historical fiction (especially in the British era).
The historical element was my favourite aspect of the book of the book. Like the characters, it was very realistic and reading it was like being transported to that time period not unlike Claire.
The men of that era, although savage like and thinking very little of women were accurately portrayed for that time period.
The book alludes to a lot of historical moments such as the Irish Potato Famine and the Jacobite Risings and I am looking forward to hopefully seeing these and more develop.
I had mixed feelings towards the protagonist Claire as I found her rather annoying at times but for the most part I did like her.
The differences between Claire's era (1946) and the era she magically transports herself to (1746) are endless and for that reason I didn't think that enough was explained illustrating that point. I also didn't think it was very accurate how quickly Claire adjusts herself to her new world.
There are so many graphic moments in this book (especially at the end) that if I had not become so heavily invested in the book I would definitely stopped reading. It was more the non-romantic graphic scenes that I didn't particularly care for.
The pacing of this book was all over the place. There were times where I just wondered where the plot was going and other times when I simply couldn't put the book down.
Overall, I really enjoyed this book and hope to read the sequel soon.