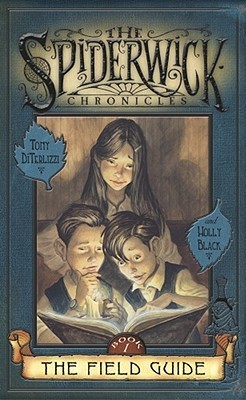 My Rating: 4/5
Source: Bought
Buy: The Book Depository
Goodreads
When the three Grace children -- Mallory, Jared, and Simon -- and their mom move into Aunt Lucinda's old house, readers know there's magic afoot. The kids uncover a nest of assembled junk, and on a visit to the secret library via the dumbwaiter, Jared finds a note describing "my secret to all mankind." After a few mysterious pranks that get blamed on Jared, the boy finally digs up the real prize:
Arthur Spiderwick's Field Guide to the Fantastical World Around You.
Fortunately enough, the kids meet one of the critters listed in the guide -- a brownie named Thimbletack -- who makes it all "real" and helps provide the book's suspenseful conclusion: "'Throw the book away, toss it in a fire. If you do not heed, you will draw their ire.'
I had really high expectations for this book as it sounded interesting, I had heard nothing but amazing things about it and it sounded like something I would like.
The sibling relationships especially between brother and sister was really accurately portrayed and I loved the whole family dynamic.
The only negative thing I can say about this book is that it was way too short! I wanted so much more from it.
This is definitely another series I am planning on buying my nephew when he is older.
I am now really looking forward to reading the rest of the series and then maybe checking out the movie adaptation.