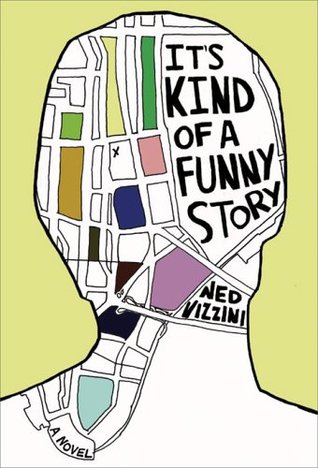 My Rating: 3.5/5
Source: Traded via Twitter
Goodreads
Ambitious New York City teenager Craig Gilner is determined to succeed at life - which means getting into the right high school to get into the right job. But once Craig aces his way into Manhattan's Executive Pre-Professional High School, the pressure becomes unbearable. He stops eating and sleeping until, one night, he nearly kills himself.

Craig's suicidal episode gets him checked into a mental hospital, where his new neighbours include a transsexual sex addict, a girl who has scarred her own face with scissors, and the self-elected President Armelio. There, Craig is finally able to confront the sources of his anxiety.

Ned Vizzini, who himself spent time in a psychiatric hospital, has created a remarkably moving tale about the sometimes unexpected road to happiness.
I have very limited knowledge about depression and mental illness in general and so this book was a real eye opener for me.
The story started off so promising for me as I immediately loved Craig as the protagonist.
The book is rather slow paced and it lacks direction. There were times where I was just simply waiting for something to happen. It lacked the big spark that makes books memorable for me.
I thought Craig's description of depression as the tentacles and anchors was really helpful in understanding his condition more.
Overall, I can tell why some people absolutely love this book. For me though, it was an interesting just not life changing book.
I have also since watched the movie based on this book and found I had the same issues with it as I had with the book.