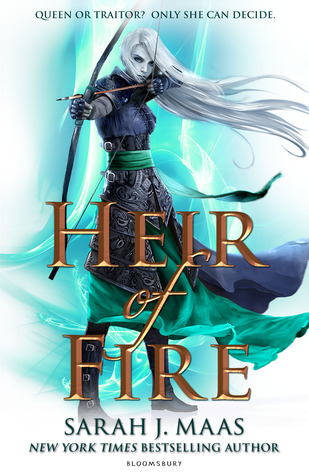 My Rating: 4/5
Source: Bought
Goodreads
Consumed by guilt and rage, Celaena can't bring herself to spill blood for the King of Adarlan. She must fight back...
The Immortal Queen will help her destroy the king - for a price. But as Celaena battles with her darkest memories and her heart breaks for a love that could never last, can she fulfil the bargain and head the almighty court of Terrasen? And who will stand with her?
Given the way Crown of Midnight ended you might have thought I would have started this one straight away. However, because of a poorly timed family holiday I was unable to pick this book up until about a week later.
I thought that Throne of Glass was rather simplistic for a fantasy novel and the perfect set up for the rest of the series. Crown of Midnight added so much depth and development to all the key areas. Heir of Fire however seemed to try to do too much.
The book follows three different storylines - Celaena, Chaol and the new character Manna. The only issue I had with this was that I found that it disrupted the rhythm and flow of the story.
The universe in this book expanded so much in this book that I think it warranted multiple maps like The Song of Ice and Fire series.
Rowan was a character that I found rather cold at first, but his unwavering loyalty towards Celaena won me over eventually.
I have mixed opinions about Dorian. On his own, I find him boring and dull. When he is with Chaol or Celaena however, he is quite interesting.
I loved the amount of backstory that was given about Celaena's past and am looking forward to continuing on with the series.