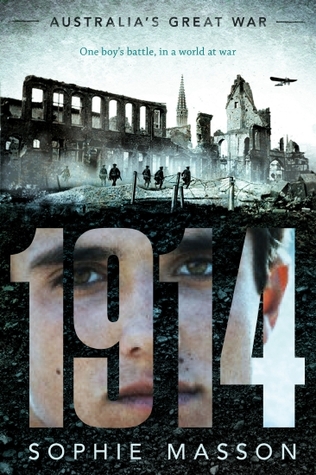 A small black bottle or a torch came sailing through the air, and landed on the side of the car, close to the Archduke. An instant later came a terrific bang, the road exploded in a shower of dust and stones, and tiny sharp things went flying through the air like angry bees.
In June 1914, Louis and his brother Thomas are enjoying the European summer in a small town near Sarajevo. In the shadow of the assassination of the heir to the Austrian throne, the world erupts into war and Louis' life changes forever. Old Europe is torn apart and Louis finds himself in the midst of his own battle - and fighting for the truth in war means that sometimes even your own side is against you.
World War One has become a really fascinating topic for me over the last year or so and so I was really fascinated to read this book.
What I loved most about this book was how well it blended fiction with fact. There were strong, interesting, fictional characters put into real historical settings.
I loved the whole journalism aspect - it enabled the story to delve into the true horrific nature of the war without going too deeply (it is a children's book after all).
A distant cousin of mine died at Polygon Wood and it is very rarely mentioned in any history books so I was really impressed that it got a mention in this book.
Overall, this was a very compelling and emotional read and I can't wait to read the sequels.